Help VOLUME support artists exploring the nexus of sound and visual arts practices in southern California and beyond.

Please consider making a charitable contribution to VOLUME. Your generosity supports the artists, musicians, and creative practitioners staking new territory at the intersection of sound and visual arts. 100% of your donation will be used to support production expenses and artist fees for our 2018—19 program.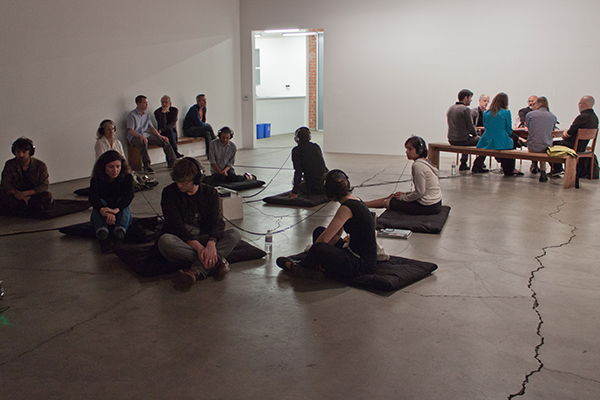 Donate by Check
Please make checks payable to
Fulcrum Arts
.
Note
VOLUME
on the memo line or voucher.
Mail to:
Fulcrum Arts
495 E. Colorado Blvd.
Pasadena, CA 91101
About

VOLUME is a collective of creative individuals dedicated to presenting time-based work by emerging and established artists engaged in sound based practices, including performance, experimental music, field recording, voice, radio, movement, and technology. Through performances, concerts, exhibitions, screenings, and workshops, VOLUME aims at fostering a critical understanding of politics and aesthetics in relation to sound and sound based practices. As a curating body, VOLUME intends to cultivate social and public activities, contributing to the contemporary sonic arts scene of Los Angeles.
Donate via Credit Card or eCheck
VOLUME FAQ
Is my donation tax deductible?
Yes, we are a fiscally sponsored project of Fulcrum Arts Emerge Program, which is a public 501c3 organization recognized by the IRS. Your donation is tax-deductible to the fullest extent permissible by law.
WeDidIt FAQ
Is my donation and credit card info secure?
Yes, the security and confidentiality of your information is our highest priority. We will not sell, trade or share your personal information with anyone else, nor send donor mailings on behalf of other organizations, and we will only share personal information if you have given us specific permission to do so.
How do I know that my donation was made successfully?
You will receive an emailed receipt immediately after your donation is submitted and your credit card is processed. Your donation will also show up on your bank or card statement within 1-3 business days.
Do I get a receipt?
Yes, a receipt is sent to your email inbox once your donation is processed. Please be sure to keep a copy of your receipt for tax purposes. If you select a recurring donation, you will be sent an individual receipt each period when your donation is processed.
Is my donation private?
We will not share or sell a donor's personal information with anyone else, nor send donor mailings on behalf of other organizations.